Celesco Linear Potentiometers, Linear Position Sensors, Rotary Position Sensors
Celesco Transducer Products is a manufacturer of linear position sensors and rotary position sensors for commercial, industrial and testing applications. Celesco Transducer Products has a history of engineering and manufacturing cable-extension position transducers of the highest quality.
Celesco Transducer Products are used in applications ranging from medical equipment, factory machinery, robotic assembly lines to possible flood control projects.
Celesco Transducer Products are cost effective and easy to install.
Trans-Tek Inc - LVDT's, Linear & Angular Displacement, Velocity Transducers

For over 30 years, Trans-Tek, Inc. has been providing the very best Linear and Angular Displacement and Linear Velocity Transducers in the business. Our main focus is Linear Sensors, which are based on LVDT (Linear Variable Differential Transformer) technology.
When it comes to solving your measurement problems, our engineers, with their extensive experience, will find the right position or velocity sensor to meet your most demanding requirements. Our complete production facility is geared to meet your delivery needs - whether it's for a standard or custom sensor solution. Our LVDT Research & Development (R&D) program is continuously expanding our product line to address countless industrial applications.
Data Track - LVDT Indicator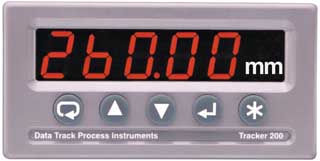 The Tracker 260 Series of LVDT Indicators are designed specifically for use with LVDT transducers. Data Tracks "Fast Cal" feature provides a fast and simple method of calibrating an indicator to the transducer at any two stroke positions. The Tracker 260 LVDT Indicators are configured for the correct transducer excitation voltage and frequency as recommended by the sensor manufacturer. As LVDT transducers can only be calibrated when in situ, the sensor is set to the mechanical "low" ( zero) and then the "high" (span) positions when prompted by the Tracker 260 LVDT Indicators. The measured LVDT signals values are then stored, with their relevant display values, as the calibration parameters. The Tracker 260 LVDT Indicators can also automatically set the correct input gain to suit the LVDT transducers output. The displayed values can be in millimetres, inches or any other measurement units.